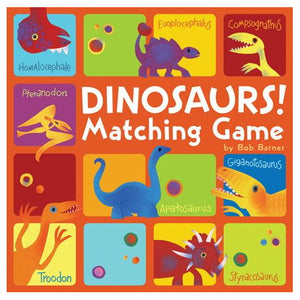 Bob Barner's colorful paper-collage dinosaurs spring to life in this classic 72-card matching game. Young dino-lovers will have fun while developing their memory, concentration, and matching skills. And they'll delight in learning the names of a variety of amazing dinosaurs!
The card tiles are well made and durable.  For younger children, start with just a few matching pairs and add more as they grow.
The box measures 9x9 inches, the tiles are 2.25 inches square.